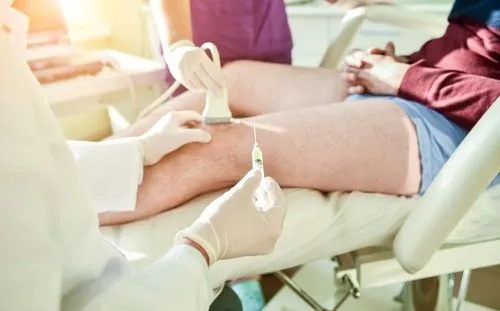 Stem Cells
During human development, each type of cell in the body including blood cells, muscle cells, and even brain tissues first start as stem cells. Because of their multiple uses and 'raw' form, stem cells can be used to manage pain and conditions and support the areas that need extra strength (i.e., areas of the body causing headaches and migraines). By sending in healthy backup cells, the body can determine how to best use the stem cells to reduce pain and prevent ongoing conditions from continuing.
Stem cell therapy has been successful in managing and treating various diseases and medical conditions due to the cells' versatility in supporting affected areas of the body on a cellular level.
Stem cells are the blank slate of cells and can form into different types of cells depending on pain and medical conditions.
Under the close supervision of our medical staff, stem cell therapy is performed through a series of injections or by using an intravenous delivery method. By injecting the stem cells through an IV or a series of shots, your body receives them in a much higher concentration than what is naturally produced. During this portion of stem cell therapy, you won't feel a thing as we will use a local anesthetic to keep you comfortable and pain-free.
Our doctor and the staff at Medical Institute of Healthy Aging are experts in patient care and using alternative approaches to pain management. We understand that every patient and illness is unique, which is why we are committed to crafting personalized treatment plans for each patient. We believe that no one deserves to live in pain or discomfort, which is why our alternative treatment options are a great choice for those seeking long-term relief from the suffering and chronic symptoms of their condition.
For more information on our stem cell therapy services or to request an appointment, contact us today at .
request an appointment
Platelet-Rich Plasma (PRP)
Medical Institute of Healthy Aging is proud to offer platelet-rich plasma (PRP) therapy to our patients. PRP has continued to grow as a reliable way to effectively treat soft tissue and joint injuries. People experience these kinds of injuries for many reasons – sometimes they are due to intense sports or can be a result of aging or developing arthritis. In any of these cases, PRP can help heal the affected tissues more quickly. Additionally, PRP has aesthetic applications such as improving overall skin and hair health.
Our blood predominantly consists of plasma, which carries red and white blood cells and platelets. PRP is created by drawing some of the patient's own blood and then using a centrifuge to concentrate the platelets within a sample of the plasma. This concentrated sample of platelets is then combined with the original blood sample. We can then inject this platelet-rich blood into the injured area. While results may not occur immediately, studies have shown that overall healing time is dramatically reduced, and inflammation is tempered.
If you have questions about platelet-rich plasma therapy or would like to schedule an appointment, please call Medical Institute of Healthy Aging today at .
request an appointment
Age-specific Plasma
Men and women get a boost of youthful energy from age-filtered plasma treatments, which are transfusions of plasma from teenagers and young adults. Research in animals shows that an infusion of this age-filtered plasma has positive effects on the brain and can slow cognitive decline. Do you want to delay dementia and possibly reduce the chance that you'll develop Alzheimer's disease? Make an appointment for your age-filtered plasma transfusions at the Medical Institute of Healthy Aging or talk with Dr. Kim about your other regenerative medicine options.
request an appointment